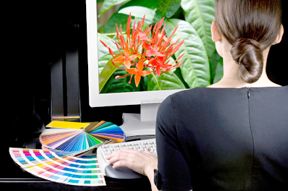 Graphic Design for all Medias & Applications
Our graphic designers wear a lot of hats. In today's business environment, a designer has to be able to brainstorm an ad campaign, create a corporate identity package, design a website, animate a concept in Adobe Flash, write copy, touch up photos, preflight and proofread customer files, and set jobs up for press or copying.
Sounds like a lot of hats, but our design department has decades of experience and a true passion for helping clients achieve their vision. They can turn your ideas, whether in your head, in a PowerPoint presentation, or on a napkin into works of marketing beauty, in a timeframe that our competition can only envy. If this sounds like the team you want behind your marketing, call us at 508-366-5999 for a free consultation.