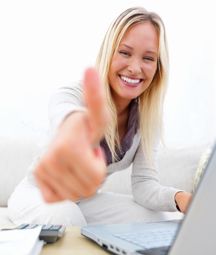 Integrated Cross-Media Marketing Campaigns
Let's talk about Jennifer.
Jennifer Anderson opens her mailbox after a hectic day at work, and begins to sort. Bill, catalog, junk, more junk...then she stops to look. In her hand is an oversized postcard mailer with a headline, "A free gift for Jennifer's Toyota Yaris!" She sees a picture of her beloved Yaris, and on reading further, realizes all she has to do to get a free steering wheel cover or travel mug is to type "jenniferanderson.toyotaoffers.com" into her browser and answer a few questions about her experiences buying the car. No strings, no catches – a free gift for one minute's time.
Now let's talk about the car dealership that mailed the offer. About 10% of recipients responded to the 5,000 offers that were sent out. That's five times the typical response rate for a mailer, so already they're ahead. Jennifer updated her contact information when she responded, making the database more accurate. The data collected on the survey indicated that wait times for services was an area that needed improvement; the dealership had no idea that was an issue with their customers. And Jennifer indicated her family might be in the market for another new car in six months' time. She's flagged in the database for a follow-up mailer at that point (although they could call her now, they don't want to be pushy).
Most importantly, the dealership has established a personal connection with Jennifer, keeping themselves at the forefront of her car buying and maintenance decisions. That makes five benefits from one mailer. A campaign like this from AccelaGraphics is a powerful thing – if you'd like a free consultation to discuss these and other cutting-edge techniques for growing your business, call us at 508-366-5999.