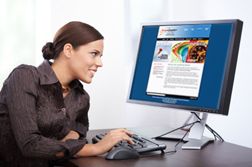 Print On Demand & Web-based Ordering
Need to order items in a hurry? Don't touch that fax machine. Put down the phone. With a customer portal from AccelaGraphics, you can order anything with just a few clicks.
Our online ordering system is designed to simplify the ordering process. Anything and everything you need can be posted in a central location, allowing access to everyone in your company to place orders. For orders that need to be verified before we receive them, we offer an order approval tool.
You can view past projects, select new quantities, and place orders online any time; day or night. We can print large runs and stock the excess inventory at our plant; when you order these items, the quantity is automatically deducted from your inventory (and you'll get a message when quantities are low). Personalized items such as business cards can be ordered this way, as well, and you'll see an online proof of each order before hitting submit, saving days off of traditional order and proof workflows.
Call us at 508-366-5999 today, and we'll set you up with a customer portal that will make ordering your items a breeze.