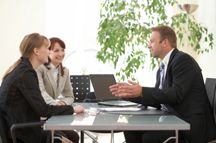 Sales and Marketing Collateral
Brochures. Fliers. Postcards. When you can't be in front of a customer, they sell for you. At AccelaGraphics, we've got sales and marketing collateral down to a science.
It starts with the initial meeting, where we gather all existing collateral for analysis to determine what's working and what isn't. We then ask the probing questions that need answers: what, specifically, is the desired outcome from the piece? Who is your target market, and what are they like? What do you do better than anyone else in the marketplace?
Then comes the creative process. We access our online sources for artwork or royalty-free photography, or arrange for a custom shoot. We polish the text, carefully choose the fonts, apply color to set the mood, all with an eye on your ultimate goal. The result is a mailer, or handout, or newspaper insert that prepares the way for person-to person or online completion of the sale. If you'd like more information, or to schedule a complimentary review of your sales and marketing collateral, call us today at 508-366-5999.