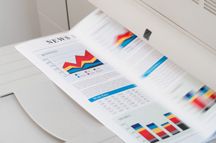 Digital B&W & Color Printing/Copying
When small runs of your letter, mailer, or flier are all you need, we've got you covered.
Our black and white toner-based copiers are marvels of sophistication, inserting covers, folding, stapling and saddle-stitch binding without a break. Not to be outdone, our BizHubPro digital color press allows us full control of every aspect of your job, from setup to color controls to any of several methods of binding, folding and stapling. With our BizHubPro, we can produce variable information (customized with your customer's name and information) jobs, and scan for images or text. Our customers often find the quality to be indistinguishable from traditional press output.
Call us at 508-366-5999 to discover what a difference a truly modern print and copy shop can make.